THE CRADLE OF HUMANKIND
The Cradle of Humankind est une pièce très personnelle, un duo inédit qui unit Steven Cohen à Nomsa Dhlamini, sa nourrice, gardienne et conteuse de l'histoire de sa vie.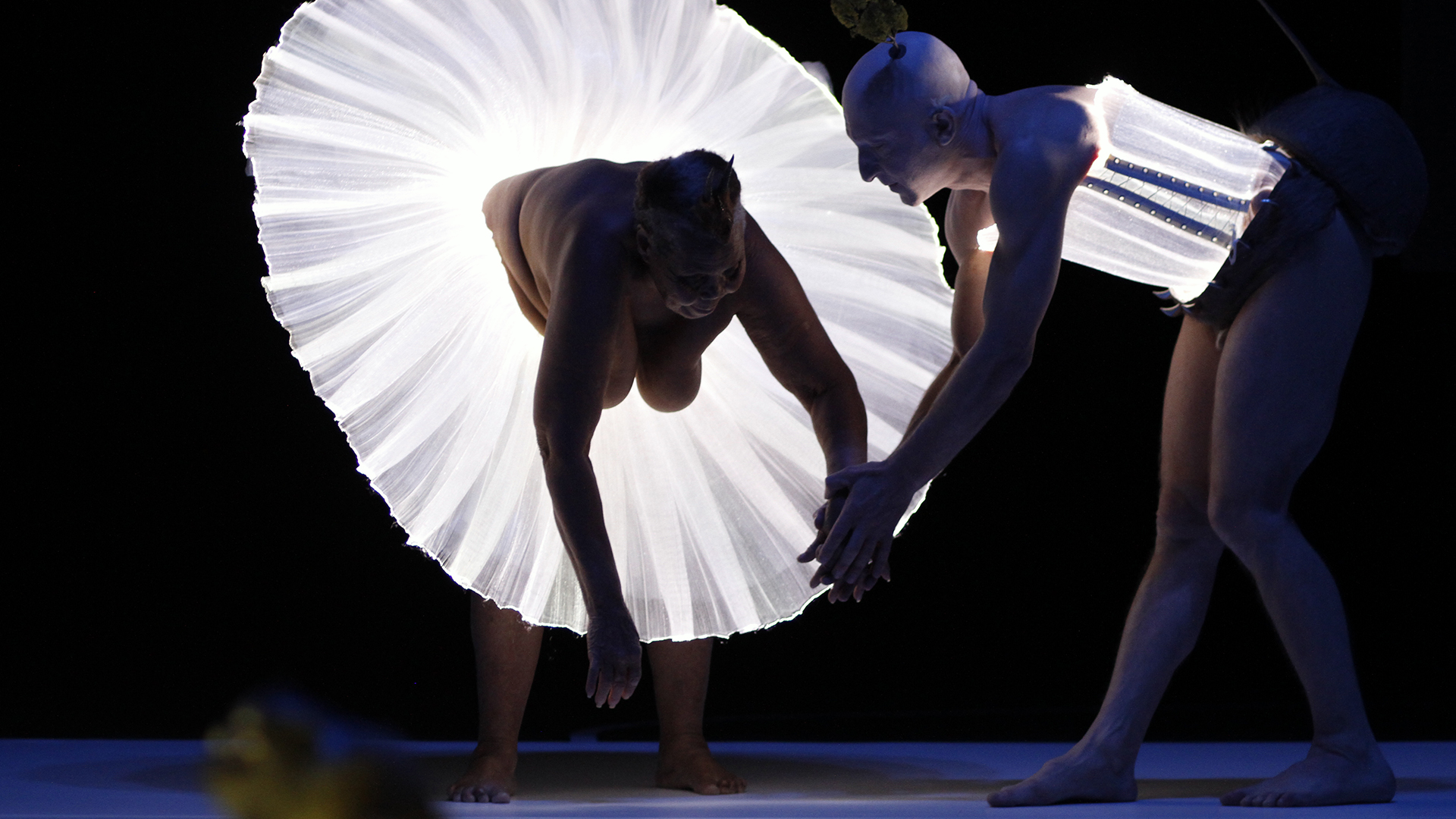 Réflexion sur les origines de l'humanité, sur son évolution traversée de violence, la pièce mêle des projections de performances réalisées dans les Swartkrans Caves* et une chorégraphie à deux.
2011 (création)

Brest FR /

Anticodes /

Le Quatrz


Bruxelles BE

/ Troubles festival / Les Halles de Schaerbeek
Lille FR / Un pas de trop / Maison folies Wazemmes
Annecy FR / EXTRA / Bonlieu Annecy
Lille FR / Latitudes contemporaines / Le Phénix
Genève CH / Festival de la Bâtie / Le Grütli
Warsaw PL / Body/mind / Teatr Studio
Paris FR / Festival d'Automne / Centre Pompidou
Toulouse FR / Théâtre Garonne
Berne CH / Dampfzentrale
Milan IT / Danae Festival / Teatro Out Off
2012
Grahamstown ZA / National Arts Festival
Avignon FR / Festival d'Avignon / Vedène
Lille FR / La Rose des Vents
Bergen NO / Oktoberdans / Studio Bergen
Bordeaux FR / Biennale Novart / TnBA
Interroger notre présent à l'aune des temps premiers, mettre au jour les permanences les plus sombres du comportement humain, rendre compte des liens que les hommes tissent entre eux, mais aussi s'exposer sans retenue, se jeter dans l'espace de la scène afin que « vous puissiez aussi vous voir à travers nous », tels sont les enjeux de ce projet que Steven Cohen qualifie d'œuvre à propos d'éthique faite avec amour, d'œuvre sur l'amour faite sans éthique.
* les Swartkrans Cave sont des grottes classées par l'UNESCO comme étant le « Berceau de l'humanité »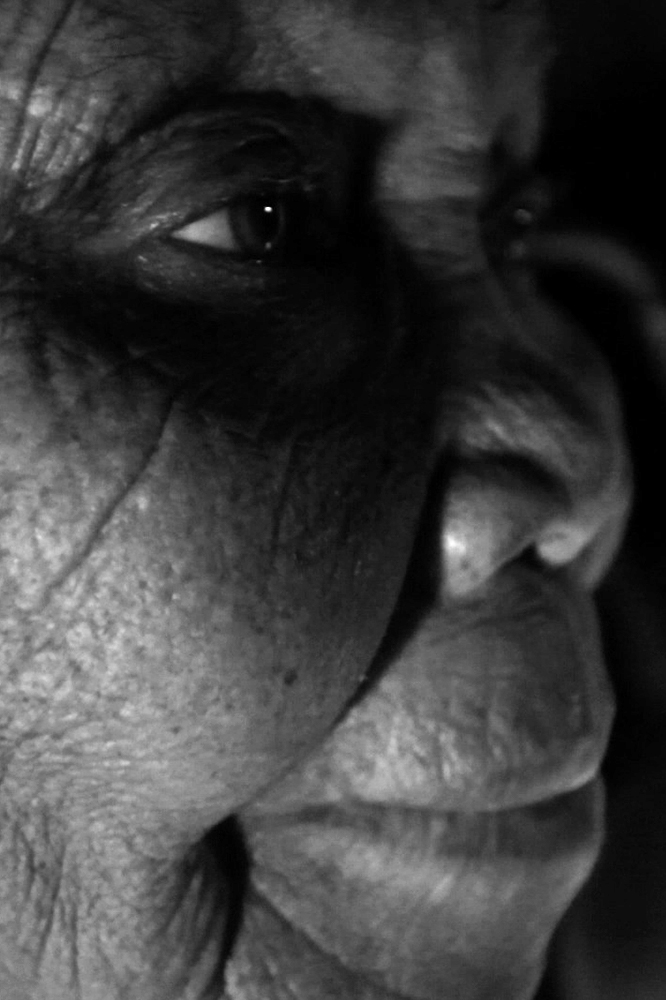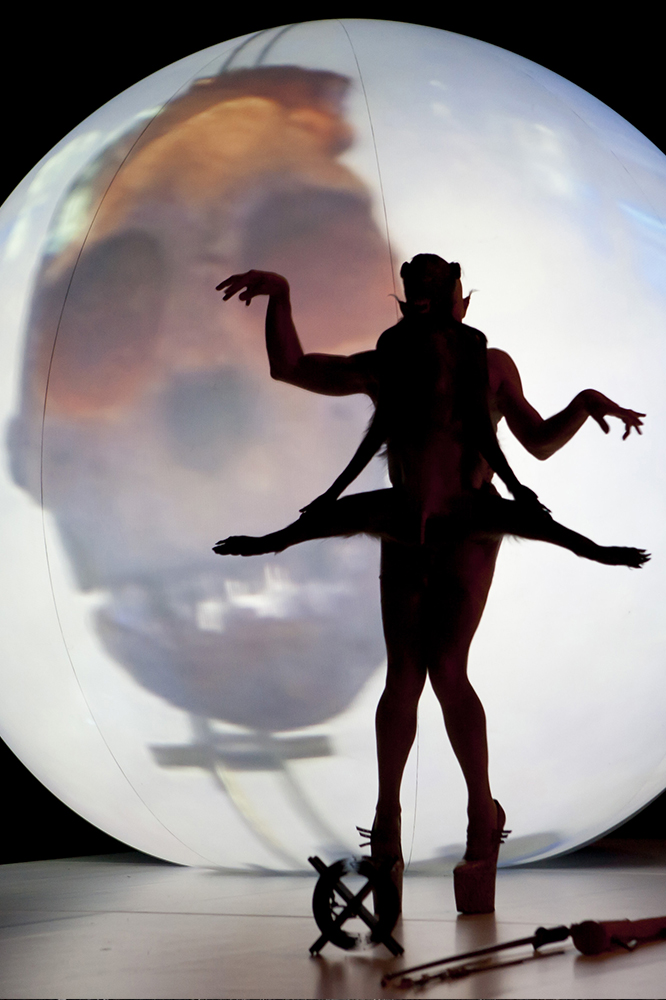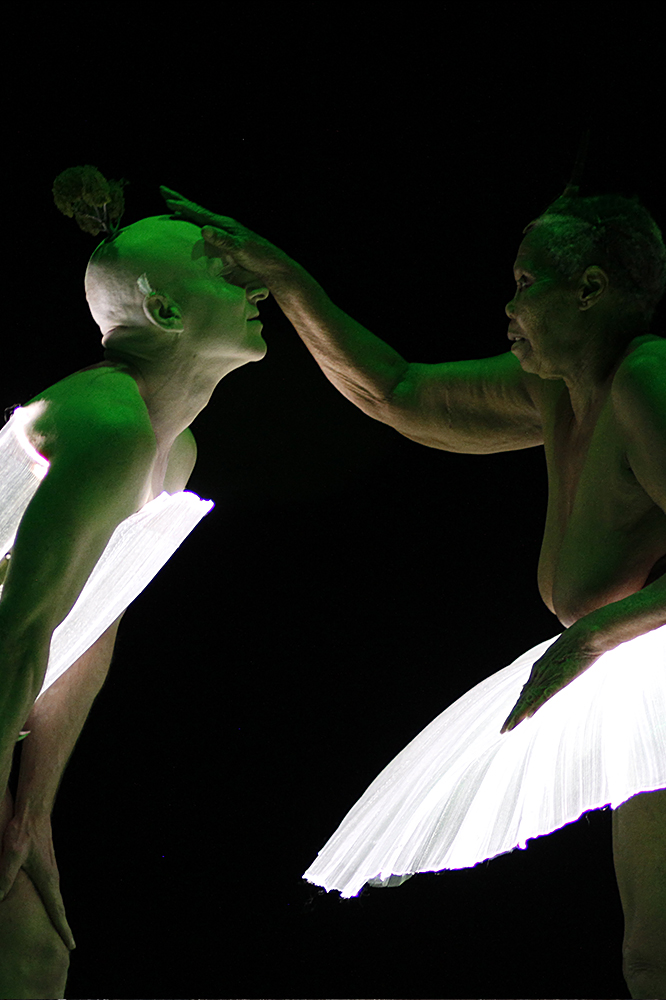 Chorégraphie, Conception, scénographie et costumes : Steven Cohen
Interprétation : Nomsa Dhlamini, Steven Cohen
Création lumière et direction technique : Erik Houllier
Régie vidéo : Baptiste Evrard
Réalisation costumes : Léa Drouault
Assistant à la création : Elu Kieser.
Production Latitudes Prod (Lille)
Coproductions Le Quartz Scène nationale de Brest, Les Spectacles Vivants-Centre Pompidou (Paris), Festival d'Automne à Paris, Le phénix Scène nationale de Valenciennes, La Bâtie Festival de Genève, Théâtre Garonne (Toulouse), Le Manège.mons/CECN (Transdigital), Technocité (Mons), Réseau Open Latitudes avec le soutien du programme Culture de l'Union européenne
Avec le soutien de la Ville de Lille, de la DRAC Nord-Pas de Calais, de la Région Nord-Pas de Calais, de Lille Métropole-Communauté urbaine, de l'Institut français, du DICREAM, du CRRAV (Centre Régional de Ressources Audiovisuelles) de Tourcoing et du Fresnoy, Studio national des arts contemporains de Tourcoing, dans le cadre de Transdigital (FEDER/Interreg IV France-Wallonie-Vlaanderen)
Cette création est dédiée à la mémoire de Merrill Plagis
COMPAGNIE STEVEN COHEN
24 rue Succursale | 33000 Bordeaux | France
Samuel Mateu
Administrateur de production | +33(0)6.27.72.32.88
production[@]steven-cohen.com
La Compagnie Steven Cohen est soutenue par la
Drac Nouvelle-Aquitaine et par le Conseil Départemental de la Gironde.
Pas d'événement actuellement programmé.