iBall
Art is o­ften unconsciously prescient. iBall, initially presented in 2015 in Strasbourg (then in Jan 2016 in Bordeaux and in July 2016 in Oita, Japan) unwittingly prefigured what has come to be in 2020.
" The art of performance is ephemeral by nature. When I realize an artistic performance, I mobilize real people and invite them to leave as many traces as possible. I use my body as a living sculpture, and my face as a canvas … thus becoming a work of art."
Steven Cohen
iBall is a work about performativity and presence, about being looked at and about supporting that gaze, about interacting and transacting, about being isolated and staying connected … none of which is easily accomplished. The artist is confined in a perspex sphere, visible but isolated physically, open to visual communication. The audience is not closely seated, but standing apart and occasionally ambient, moving in a pre-organized manner.
The artist interacts with the audience on a one-to-one basis. An exchange is made. The nature of the exchange is selected by the audience member.
2015 (creation)

Strasbourg FR / HEAR / La Chaufferie
2016

Bordeaux FR / Festival Trente Trente / Halle des Chartrons
Oita JP / Oita Art Museum
2021 (re-creation)
Rennes FR / Théâtre National de Bretagne

Barcelona ES / Grec Festival / MACBA
2022
Poitiers FR / À Corps / Théâtre Auditorium de Poiters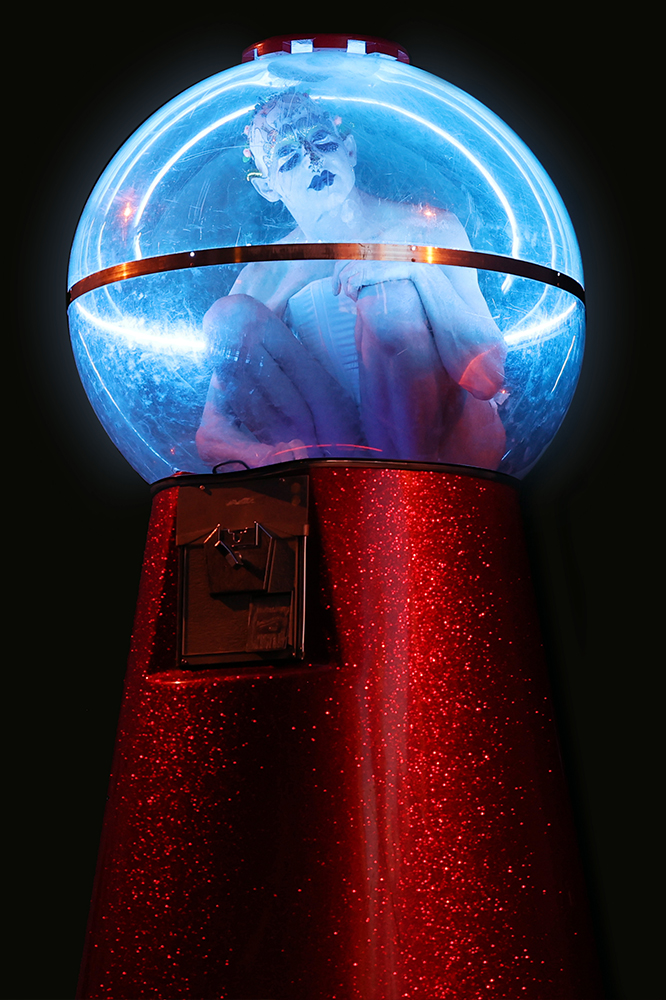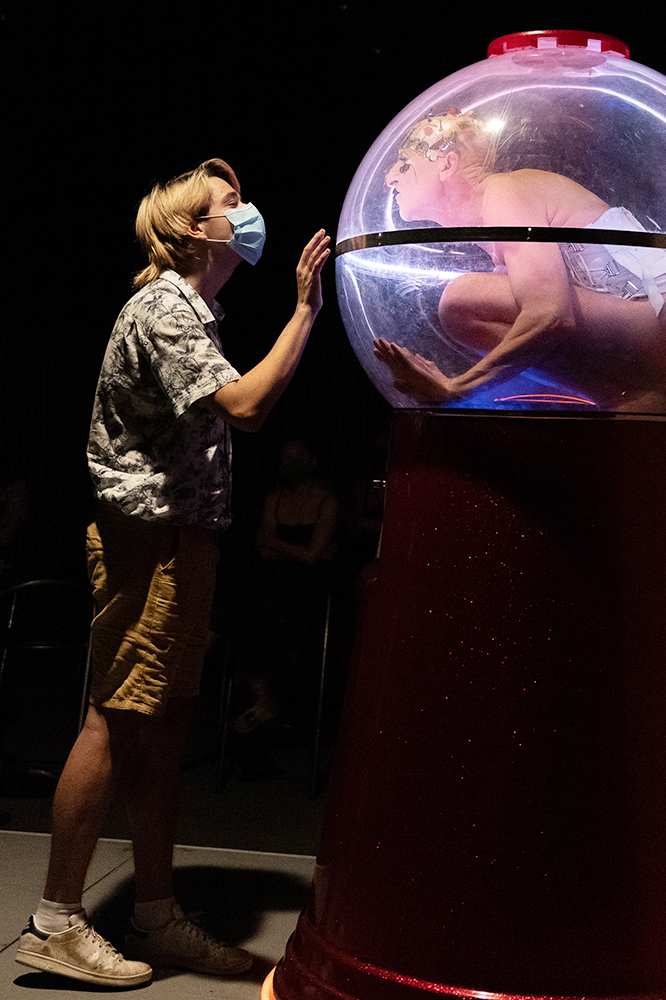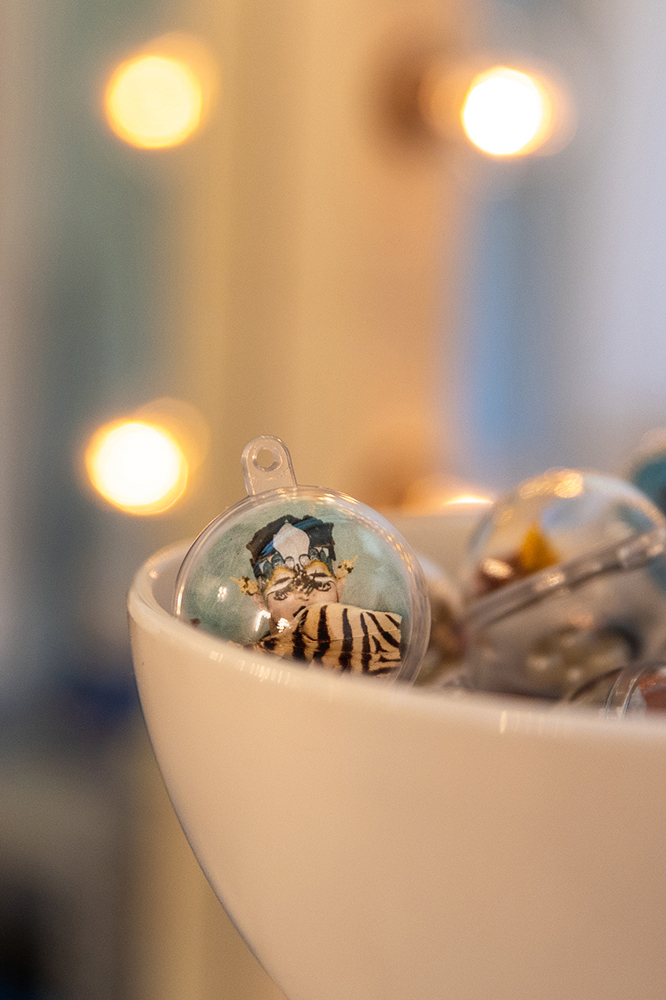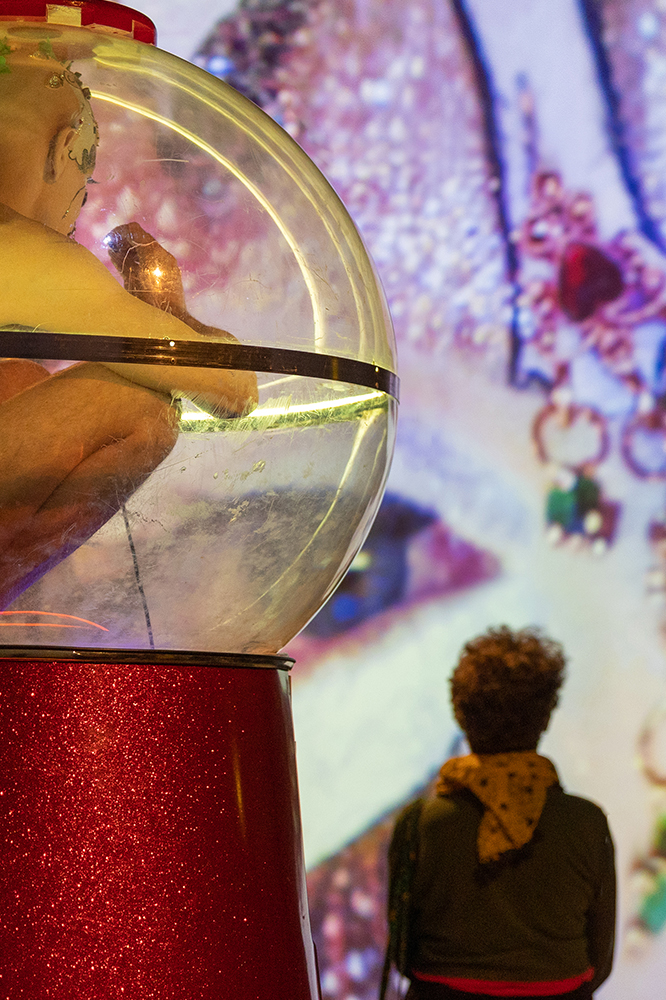 Choreography, scenography, costumes and interpretation; Steven Cohen
Technical managment, lights, sounds and constructions : Yvan Labasse
Vidéos managment : Allan Thiebault
Assistance and managment : Samuel Mateu
Production : Compagnie Steven Cohen
With the support of Théâtre Auditorium de Poitiers and Compagnie Les Marches de l'Été / Atelier des Marches.
The project benefited from the Creation Fund of the city of Bordeaux
Show created on July 12 & 13, 2021 at Théâtre National de Bretagne, in Rennes, as part of saison Africa2020.
STEVEN COHEN COMPANY
24 rue Succursale | 33000 Bordeaux | France
Samuel Mateu
Production | +33(0)6.27.72.32.88
production[@]steven-cohen.com
The Steven Cohen Company is supported by
Drac Nouvelle-Aquitaine and by Conseil Départemental de la Gironde.