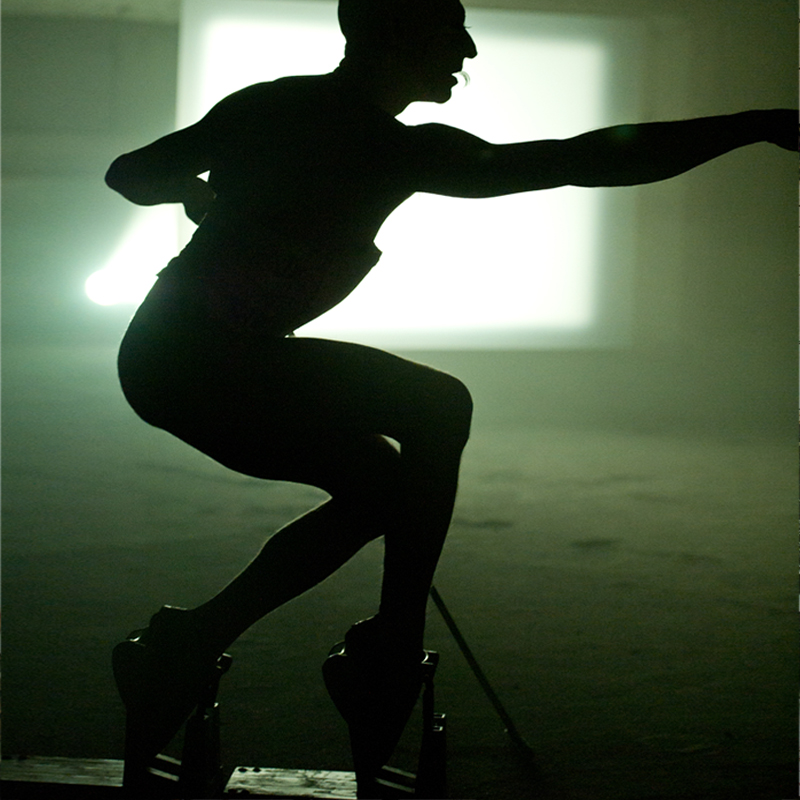 TITLE WITHHELD (FOR LEGAL AND ETHICAL REASONS)
Ce qui se joue à travers la performance-installation de Steven Cohen se situe à la croisée du témoignage, de l'enquête et de la divagation poétique. Costumes, vidéos, lumières phosphorescentes et rats constituent les balises d'un lieu volontairement non situé en matière d'époques et de continents, à la lisière de l'Histoire et de l'imagination.
Un fil rouge cependant : la découverte par l'artiste d'un journal intime, fait d'écrits et de croquis, tenu entre 1939 et 1942 par un jeune Juif français. Comment ce récit personnel devient-il un matériau historique, susceptible d'appropriation et de transmission ? Comment un document daté d'il y a soixante-dix ans circule-t-il jusqu'au XXIe siècle, cristallisant nos interrogations sur les faillites de l'humanité ? Comment, aussi, faire de ces carnets la matière d'une œuvre artistique ?
L'histoire de ce jeune garçon, dont on perd brutalement la trace en 1942, entre en résonance avec la propre expérience de Steven Cohen, celle d'un Juif sud-africain, blanc et homosexuel, «oppresseur et opprimé», comme il le dit lui-même. En multipliant les allers-retours entre des objets trouvés et sa propre subjectivité, entre Shoah et apartheid, l'artiste confronte faits et concepts : dedans/dehors, intimité/histoire, privé/public, confiance /trahison. Adossé à un important travail de documentation, Title Withheld (For Legal and Ethical Reasons) dépasse pourtant largement l'œuvre de mémoire. Le journal intime, dont la découverte est à la genèse du projet, ne peut être réduit au statut d'archive : il transpire et traverse le siècle jusqu'à nous, remuant tous ceux qui en prennent connaissance aujourd'hui, par l'entremise et la délicatesse du travail de Steven Cohen.
RB